© John Sawyer – April 2008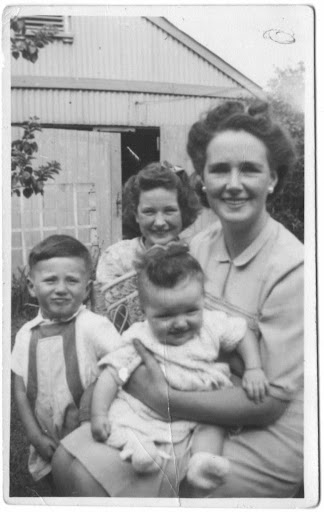 The attached photo was taken one Sunday, about 60 years ago in Grandma Sawyer's backyard.  Anne, my beautiful Mum is holding baby Helen. My pre-war, older sister Val is grinning at Tom, our Dad, while he takes the photo. I'm the young bloke looking nervous and holding myself inappropriately.
We've just arrived from Glenferrie by train. I'd driven all the way, kneeling on the seat with my head out the window while Dad held my knees. "DON'T PUT YOUR BOOTS ON THE SEAT".  The window latch was my throttle and 2 convenient coach screws acted as the horn and brake. 
We'd arrived at the station around 9am and I had lots of questions: "Why does he put the tickets in there Dad?" as the ticket seller punched the date onto Mum and Val's Sunday Excursion and Dad's extension to his Workman's Weekly.  "How many tickets does he have Dad?" "Why can't Helen and I have a ticket Dad?"
While we waited for the train to Flinders Street, Dad weighed us progressively on a big cast iron weighing machine with the same penny. "Why can't I have my own weigh Dad? Why do I have to share the penny with them?"
The train from Flinders Street to Moonee Ponds was an old dog box with swing doors. Not popular with adults but great for an apprentice train driver. The window ledge was lower so I could poke my head right out into the wind and watch out for whistle boards and signals to punch my buttons in unison with the driver. The only problem was the latch being too high so I'd attempted to use the door handle as the throttle: "DON'T TOUCH THE DOOR HANDLE!"
"What's the smell Dad?" as we passed a train load of sheep crammed into their double decker wagons.  "Where are the sheep going?" "Why are the sheep going on a holiday Dad?" "When are we going on holiday Dad?"
Mum brushed me down and used her own spit to tame my hair into place before we arrived at Grandma's. She still complained to her mother in law just in case she'd missed something: "Look at him Mum, he's touched absolutely everything on the way here. Just look at those pants. Wiped the whole train and then dusted every fence from the station."
After the photo, the family go back into the kitchen to wait for lunch. While the smell of roast hogget, chook and potatoes wafted around us, I stand on a kitchen chair and helped make scones, chocolate cake and lemon sponge for afternoon tea. "Can I lick the bowl Nan? Can I?" Of course I can and I lick it clean before stacking it in the sink.
Eventually the meat is ready and while it is rested and carved, the oven is taken over by scones and cakes pumping their tempting aromas around the kitchen. The tang of freshly picked, crushed mint and vinegar rounds off our appetites as we sit at the dining room table.
After lunch, I fiddle with the player piano. "How does it work Dad?" "When will I be big enough to pump Dad?" "Who puts all the holes in the rolls?" "Why are some holes round like circles?"
I help Dad wind the dining table out to slot in two extension panels. "DON'T PUT YOUR FINGERS IN THERE! YOU'LL LOSE THEM." "Why will I lose them Dad?" "Won't I be able to find them again?"
My aunties, uncles and cousins join us around the table for tea. Cold meat, salad, tomato dipped in sugar, cake and trifle. Miss Collie, the boarder arrives from church and joins us: "Well thank you Mrs Sawyer. But are you sure? There's barely room to swing a cat with the whole family here."
On the way home I have a couple of final questions: "Why did Miss Collie want to swing a cat Dad?" "Does she hold it by the tail, Dad?"
Author's Footnote
Most family albums have at least one photo of me looking worried and holding onto my little fella for dear life. It didn't seem to bother anyone and I can't remember anyone telling me to stop. I don't think I was particularly scared, I was just intent on taking in my surroundings and probably held on to the nearest convenient appendage.
There are no offending photos from the time of my sister's wedding, 10 years after this photo. In fact there are no photos of me taken that day, so if the photos weren't expunged, I had probably been "cured" by then.
Publisher's Note
Readers will be pleased to read that author finally broke his unfortunate holding habit a couple of years ago after a rather embarrassing photo appeared in the "Melbourne Times".
Readers should also note that the rumours that there are unseemly photographs of the author during the presentation of his Queens Scout certificate by the Governor are scurrilous and untrue. The only photograph of him at Government House on that day shows him looking just like any other extremely dorky 17 year old forced to wearing a Scout uniform that only just fitted him when he was 14.